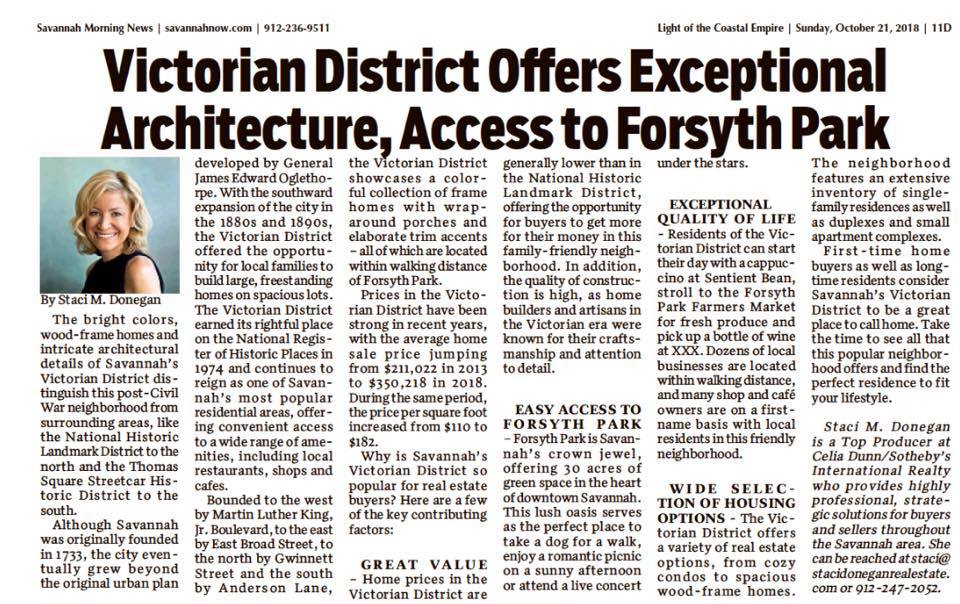 The bright colors, wood-frame homes and intricate architectural details of Savannah's Victorian District distinguish this post-Civil War neighborhood from surrounding areas, like the National Historic Landmark District to the north and the Thomas Square Streetcar Historic District to the south.

Although Savannah was originally founded in 1733, the city eventually grew beyond the original urban plan developed by General James Edward Oglethorpe. With the southward expansion of the city in the 1880s and 1890s, the Victorian District offered the opportunity for local families to build large, freestanding homes on spacious lots. The Victorian District earned its rightful place on the National Register of Historic Places in 1974 and continues to reign as one of Savannah's most popular residential areas, offering convenient access to a wide range of amenities, including local restaurants, shops and cafes.

Bounded to the west by Martin Luther King, Jr. Boulevard, to the east by East Broad Street, to the north by Gwinnett Street and the south by Anderson Lane, the Victorian District showcases a colorful collection of frame homes with wrap-around porches and elaborate trim accents – all of which are located within walking distance of Forsyth Park.

Prices in the Victorian District have been strong in recent years, with the average home sale price jumping from $211,022 in 2013 to $350,218 in 2018. During the same period, the price per square foot increased from $110 to $182.

Why is Savannah's Victorian District so popular for real estate buyers? Here are a few of the key contributing factors:

GREAT VALUE – Home prices in the Victorian District are generally lower than in the National Historic Landmark District, offering the opportunity for buyers to get more for their money in this family-friendly neighborhood. In addition, the quality of construction is high, as home builders and artisans in the Victorian era were known for their craftsmanship and attention to detail.

EASY ACCESS TO FORSYTH PARK – Forsyth Park is Savannah's crown jewel, offering 30 acres of green space in the heart of downtown Savannah. This lush oasis serves as the perfect place to take a dog for a walk, enjoy a romantic picnic on a sunny afternoon or attend a live concert under the stars.

EXCEPTIONAL QUALITY OF LIFE – Residents of the Victorian District can start their day with a cappuccino at Sentient Bean, stroll to the Forsyth Park Farmers Market for fresh produce and pick up a bottle of wine at XXX. Dozens of local businesses are located within walking distance, and many shop and café owners are on a first-name basis with local residents in this friendly neighborhood.

WIDE SELECTION OF HOUSING OPTIONS – The Victorian District offers a variety of real estate options, from cozy condos to spacious wood-frame homes. The neighborhood features an extensive inventory of single-family residences as well as duplexes and small apartment complexes.

First-time home buyers as well as longtime residents consider Savannah's Victorian District to be a great place to call home. Take the time to see all that this popular neighborhood offers and find the perfect residence to fit your lifestyle.

Staci M. Donegan is a Top Producer at Celia Dunn/Sotheby's International Realty who provides highly professional, strategic solutions for buyers and sellers throughout the Savannah area. She can be reached at staci@stacidoneganrealestate.comor 912-247-2052.