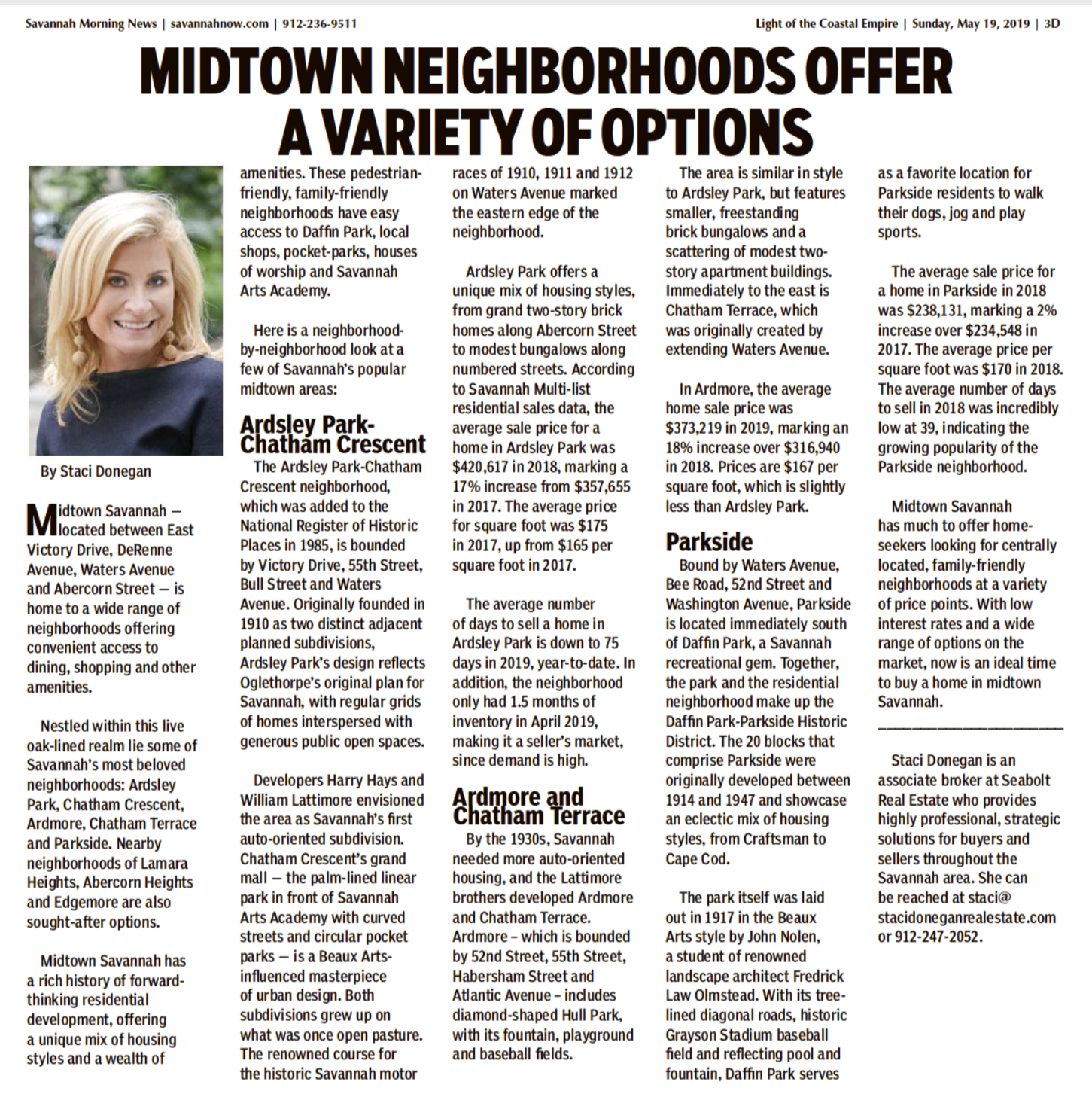 By Staci Donegan

Midtown Savannah — located between East Victory Drive, DeRenne Avenue, Waters Avenue and Abercorn Street — is home to a wide range of neighborhoods offering convenient access to dining, shopping and other amenities.
Nestled within this live oak-lined realm lie some of Savannah's most beloved neighborhoods: Ardsley Park, Chatham Crescent, Ardmore, Chatham Terrace and Parkside. Nearby neighborhoods of Lamara Heights, Abercorn Heights and Edgemore are also sought-after options.
Midtown Savannah has a rich history of forward-thinking residential development, offering a unique mix of housing styles and a wealth of amenities. These pedestrian-friendly, family-friendly neighborhoods have easy access to Daffin Park, local shops, pocket-parks, houses of worship and Savannah Arts Academy.
Here is a neighborhood-by-neighborhood look at a few of Savannah's popular midtown areas:
Ardsley Park-Chatham Crescent
The Ardsley Park-Chatham Crescent neighborhood, which was added to the National Register of Historic Places in 1985, is bounded by Victory Drive, 55th Street, Bull Street and Waters Avenue. Originally founded in 1910 as two distinct adjacent planned subdivisions, Ardsley Park's design reflects Oglethorpe's original plan for Savannah, with regular grids of homes interspersed with generous public open spaces.
Developers Harry Hays and William Lattimore envisioned the area as Savannah's first auto-oriented subdivision. Chatham Crescent's grand mall — the palm-lined linear park in front of Savannah Arts Academy with curved streets and circular pocket parks — is a Beaux Arts-influenced masterpiece of urban design. Both subdivisions grew up on what was once open pasture. The renowned course for the historic Savannah motor races of 1910, 1911 and 1912 on Waters Avenue marked the eastern edge of the neighborhood.
Ardsley Park offers a unique mix of housing styles, from grand two-story brick homes along Abercorn Street to modest bungalows along numbered streets. According to Savannah Multi-list residential sales data, the average sale price for a home in Ardsley Park was $420,617 in 2018, marking a 17% increase from $357,655 in 2017. The average price for square foot was $175 in 2017, up from $165 per square foot in 2017.
The average number of days to sell a home in Ardsley Park is down to 75 days in 2019, year-to-date. In addition, the neighborhood only had 1.5 months of inventory in April 2019, making it a seller's market, since demand is high.
Ardmore and Chatham Terrace
By the 1930s, Savannah needed more auto-oriented housing, and the Lattimore brothers developed Ardmore and Chatham Terrace. Ardmore – which is bounded by 52nd Street, 55th Street, Habersham Street and Atlantic Avenue – includes diamond-shaped Hull Park, with its fountain, playground and baseball fields.
The area is similar in style to Ardsley Park, but features smaller, freestanding brick bungalows and a scattering of modest two-story apartment buildings. Immediately to the east is Chatham Terrace, which was originally created by extending Waters Avenue.
In Ardmore, the average home sale price was $373,219 in 2019, marking an 18% increase over $316,940 in 2018. Prices are $167 per square foot, which is slightly less than Ardsley Park.
Parkside
Bound by Waters Avenue, Bee Road, 52nd Street and Washington Avenue, Parkside is located immediately south of Daffin Park, a Savannah recreational gem. Together, the park and the residential neighborhood make up the Daffin Park-Parkside Historic District. The 20 blocks that comprise Parkside were originally developed between 1914 and 1947 and showcase an eclectic mix of housing styles, from Craftsman to Cape Cod.
The park itself was laid out in 1917 in the Beaux Arts style by John Nolen, a student of renowned landscape architect Fredrick Law Olmstead. With its tree-lined diagonal roads, historic Grayson Stadium baseball field and reflecting pool and fountain, Daffin Park serves as a favorite location for Parkside residents to walk their dogs, jog and play sports.
The average sale price for a home in Parkside in 2018 was $238,131, marking a 2% increase over $234,548 in 2017. The average price per square foot was $170 in 2018. The average number of days to sell in 2018 was incredibly low at 39, indicating the growing popularity of the Parkside neighborhood.
Midtown Savannah has much to offer home-seekers looking for centrally located, family-friendly neighborhoods at a variety of price points. With low interest rates and a wide range of options on the market, now is an ideal time to buy a home in midtown Savannah.
______________________
Staci Donegan is an associate broker at Seabolt Real Estate who provides highly professional, strategic solutions for buyers and sellers throughout the Savannah area. She can be reached at staci@stacidoneganrealestate.com or 912-247-2052.